Domino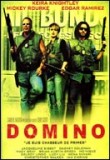 Domino
États-Unis, 2005
De
Tony Scott
Scénario :
Richard Kelly
Avec :
Keira Knightley
,
Delroy Lindo
,
Lucy Liu
,
Mickey Rourke
,
Mena Suvari
,
Christopher Walken
Durée : 2h08
Sortie : 12/10/2005
Note FilmDeCulte :
A young and famous top-model from a rich family, Domino Harvey, decides to leave it all to become a bounty hunter. Running away from the fashion shows, she heads into a world of danger...
CONFESSIONS OF A DANGEROUS MIND
Domino was widely expected because of just one thing: the teaming up of a director in the middle of a creative renaissance, and a young wonder whose name spells out excitement after just one movie, Donnie Darko. What could this duo bring us? The answer is Domino, a hysterical and joyous mess of a movie that wonderfully combines its director's rococo style and its writer's offbeat world. First question: has Tony Scott calmed down ? Not at all. But his frantic editing, his shaky camerawork and his love of saturated colors (all of these tricks he already used in his BMW short Beat the Devil and on Man on Fire) all fit in perfectly in this amped and mostly unbelievable story of Domino Harvey's life. This isn't your usual biopic, by any means. It's the pure creation of screenwriters Steve Barancik (The Last Seduction) and Richard Kelly who chose to completely set their story in a movie-world, in a way that's reminiscent of Tarantino or Shane Black's writing. Everything here is offbeat, cynical and self-conscious.
THE TODAY SHOW
It's no surprise Tony Scott has already worked with the two writers we've just mentioned on True Romance and The Last Boy Scout. Tarantino's taste for split up storylines and Black's dark cynicism both inhabit Domino. The entire movie is built around its broken narrative. It seems this trick is here just to hide the fact the story is basically quite simple and it all seems a little bit contrived. Clocking in at 2:08, Domino has a few slow parts but overall its uniqueness saves it from becoming boring. The movie is often reminiscent of Natural Born Killers (another movie penned by Tarantino!) in its way of depicting TV as a dark and depressingly funny reminder of the sombre world Domino is sliding into. Richard Kelly seems to have been spoon-fed vomit-inducing programs like Beverly Hills 90210 or The Jerry Springer Show his whole life and his love/hate relationship with them is obvious all along. These influences may bring some to blame Domino for having movie-trailer aesthetics or accusing it of being a pure example of style over substance. It is in fact a beautiful 2000s vision of a post-90s world way more fucked up than it appears, where even the children of movie stars can't be safe have nowhere to hide.