Veronica Guerin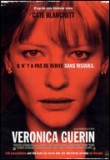 Veronica Guerin
États-Unis, 2003
De
Joel Schumacher
Scénario :
Mary Agnes Donoghue
,
Carol Doyle
Avec :
Barry Barnes
,
Cate Blanchett
,
Ciarán Hinds
,
Gerard McSorley
Durée : 1h38
Sortie : 01/01/2003
Note FilmDeCulte :
Mid-nineties. Dublin is governed by drug lords. Journalist Veronica Guerin decides to investigate. Even if it entails ignoring the dangers brought upon herself...
CHASING THE DRAGON
However absent female characters are in Joel Schumacher's movies, real life-journalist Veronica Guerin perfectly fits among the reckless avengers the director likes to portray. Schumacher once again brings up his perpetual questioning about justice, thus confirming the turning point in his work brought about with Tigerland. If in movies like Falling Down or 8mm, justice can only be obtained via self-defence, the equation his not necessarily true in his latest films. Tigerland threw its learning soldiers into a cocoon-like society where justice is out of reach and doesn't concern them anymore. Phone Booth also dealt with this question. Veronica Guerin, finally, continues to look at a parallel judiciary system. This time around Schumacher is more distant, less infuriated, trying to watch things in a more objective light.
WHO WANTS TO KILL VERONICA GUERIN?
Put forward from beginning to end, Veronica Guerin is always on screen. Schumacher follows her every move without giving a final opinion on the character. She's neither a saint nor a messiah, only an ordinary person overwhelmed by extraordinary circumstances, such as numerous characters in the filmmaker's career before her. That we be in Dublin's poor districts, racist townships down in Mississippi or stuck in one of L.A.'s traffic jams… the setting is always there to trigger the spiral which will bring down men or women whose only mistake was to be at the wrong place at the wrong time. The journalist carries on despite the dangers, only thinking about her duty. Guerin's pride brings a subtle nuance to the character, though it's her bravery that's put forth the most. Cate Blanchett embodies Veronica with enthusiasm and carries the movie in a way that few actresses would have been capable of doing.
A TRUE STORY
Stuck within the limits of his "true story", Schumacher doesn't have much room to wiggle around in. But maybe did he not feel like it either: Veronica Guerin gains a lot from its dryness and it's edginess (98 minutes without an ounce of fat) and relatively sober visuals. As the good storyteller that he is, Schumacher gives us a closely knit narration whose intensity goes crescendo up to a final sequence which may divide audiences. The movie, so sober all along, opens in its last part the fountains of grandiloquence, as if the brushed off nature of the filmmaker was finally taking over. Emotional pinnacle or lachrymal mistake, each viewer will find one's clan about the ending where words give way to distressed songs, drowned in bitterness. Veronica Guerin is an honest and passionate movie, just like its main character.