Sinbad, Legend of the Seven Seas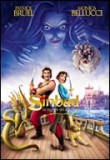 Sinbad, Legend of the Seven Seas
États-Unis, 2003
De
Patrick Gilmore
,
Tim Johnson
Scénario :
John Logan
Avec :
Joseph Fiennes
,
Michelle Pfeiffer
,
Brad Pitt
,
Catherine Zeta-Jones
Durée : 1h30
Sortie : 01/01/2003
Note FilmDeCulte :
Sinbad the thief and Proteus the prince find themselves aboard the same ship to recover the Book of Peace. Proteus brings the Book back to Syracuse but Eris, the Greek goddess of Chaos, taking the guise of Sinbad, steals the Book. Sinbad is accused and sentenced to death, but Proteus takes his place, and Sinbad has now ten days to find the Book again, before his friend gets killed…
DreamWorks' latest animated opus brings with it a feeling of deja-vu. By making use of sea-creatures and pirates, Tim Johnson and Patrick Gilmore evoke Atlantis, Treasure Planet, The Little Mermaid and even Ice Age. Although it steals and borrows heavily from these films, one can only recognize how well and efficiently it does it. This typically modern re-telling of the 1001 Nights is impeccably well told, dosed and thought out. With less stupid humor, Sinbad's plot comes back to simple yet efficient recipes: the prince and the thief, the macho and the rebellious young woman, the sedentary and the nomad… The main characters all bear Katzenberg's mark of intelligent children's movies
Making the princess's henchmen all-digital will likely shock some viewers, but the overall pace and fluidity of the animation makes Sinbad DreamWork's best since The Prince of Egypt, though it's not as ambitious as Moses' story. There are many very enjoyable moments of pure fun involving mostly Eris and the Rat… Some new references in the animated world have appeared (The Matrix, The Lord of the Rings…) and, although it lacks a little ambition, Sinbad is nevertheless a surprisingly hybrid spectacle. It sails through known seas, but the cruise is still loads of fun.
En savoir plus
Quelques liens :