Munich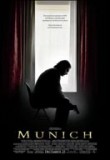 Munich
États-Unis, 2005
De
Steven Spielberg
Scénario :
Tony Kushner
,
Eric Roth
Avec :
Eric Bana
,
Daniel Craig
,
Ciarán Hinds
,
Mathieu Kassovitz
,
Geoffrey Rush
Durée : 2h44
Sortie : 01/01/2005
Note FilmDeCulte :
The world was watching in 1972 as 11 Israeli athletes were murdered at the Munich Olympics. This is the story of what happened next.
MASTER OF HIS GAME
Even after 30 years of doing what he does, you'd think you'd have Steven Spielberg nailed down. But no. Who could've imagined the first scene of Saving Private Ryan? The arrival of the first Tripod in War of the Worlds? A.I.'s dark tone and Minority Report's jolts of humor? Be it in his themes or aesthetics, Spielberg has shown a knack for always bringing in fresh ideas when everyone thought what to expect. And the result still seems so natural and obvious. Some may even be put off by scenes that are so well crafted since they end up looking easy. Is Spielberg's talent his worst enemy? Munich goes further in this attempt to constantly rejuvenate his work. The movie seems straightforward in the way it revisits the political thrillers of the 1970s, but it never ceases to impress by its tone, its violence, and the sheer despair that seems to pour out of it. Once again, here's a masterpiece that seems to go somewhere Spielberg has never gone before, but still is filled with all of his favourite themes.
A HISTORY OF VIOLENCE
Spielberg is a filmmaker but a filmlover before all and Munich is his way of using the period the movie is set in to shoot it in a way reminiscent of the time. The movie is frantically shot, using zoom lenses and a dark, gritty look that reminds us of William Friedkin's work or Coppola's The Conversation. This style also gives the movie a realistic feel which helps shots done by Spielberg blend in with images from the time. But Munich is still fiction and he shows it in one masterful shot at the beginning of the film where the famous image of the terrorist on the balcony is still just a live video feed from a news channel. Spielberg's other big talent is his way of bringing in shades of entertainment in serious subject matter. One may still gripe about the idea of throwing in some suspense before the shower scene in Schindler, but it's all part of trying to show the events as seen from the eyes of the protagonist. Munich is very similar to War of the Worlds in the way it goes from tension to pure horror. The movie's violence isn't like the one in Ryan. The spilling of guts was a good way of shocking us and bringing us straight into the horror of WWII, but here the violence is much more clinical, cold, dry and somewhat reminiscent of a filmmaker such as David Cronenberg. Spielberg shows us some naked bodies in a way that's almost indecent. Munich even has one of Spielberg's only lovemaking scenes, showing us nudity straight on, just before showing it in a very different way: on a dead body.
MISSION: IMPOSSIBLE
As it goes on, Munich is all about this transformation, showing how violence will slowly invade everything. At the heart of the movie, a team of assassins that has never killed, almost as amateurish as anyone in the room. And they learn how to kill, until it becomes easy. Routine. Violence begets violence. This simple phrase could be Munich's tagline. "He who saves one life, saves the world entire" was the message of Schindler, and it could even apply to Ryan and its team of men out to save just one. In Munich, the mission isn't to save, but to kill. And not just one man. The Mossad answers the Munich attack by other attacks (using explosives, most notably), and the worst of it all isn't the gesture itself but the fact it gets repeated and becomes a habit. Everything becomes violence. The dialogue is violence. "They're answering our murders with terror attacks. Now we're talking" says one of the characters.
THE MIRROR HAS TWO FACES
Spielberg is constantly showing the Israelis and Palestinians as two sides of the same coin. The names of the victims are read out as the Palestinian targets are being designated. 11 people killed and 11 people to kill. All along, flashbacks showing Munich appear throughout the film: the arrival of the terrorists in the Olympic village, the hostage-taking, the media coverage of the event… Most of these scenes take place at night. Death is everywhere, ready to jump out at any moment. Avner (Eric Bana) thinks back at those moments constantly in order to give a meaning to his mission. Once again, the two events are put side by side for comparison and the conclusion is they're the same. Some critics have complained using the phrase "moral equivalence". They'd like to accuse Spielberg of not taking sides or, worse, blending the two causes together. Though he obviously wished to let the movie speak for itself, he's been forced to come out and defend it himself, speaking words much less politically-correct we're used to hearing from him.
FATHERLAND
"They would've preferred I stayed quiet", he says. Who? Everybody. Most notably those who say Munich shows Spielberg is "not a friend of Israël". For someone who's seen as a philanthropist since he helped build the Shoah Foundation, a movie such as Munich is bound to be risky. Even if he says he's deeply convinced of the need for Israël, Spielberg also allows himself to say the land isn't necessarily for the Jews only. First of all through the words of a Palestinian whose speech isn't propaganda but his deeply felt thoughts, and also through the words of Avner's mother who tries to defend her values but who sounds false. In the end, everything is just an illusion. Avner is a typically Spielbergian character. Son of a missing father, Avner is a sabra (born in Israël) but who's considered a foreigner. He doesn't go and see his sick father, maybe because he was abandoned by him, and maybe he somehow understands him in the end when he becomes too a hero of Israël (and a missing father). And this time, it isn't so much the father that leaves the son (as in many other Spielberg pictures), but the country itself. Once again, Israël isn't seen in a very positive light.
BLACK SEPTEMBER
"It isn't because you love your country that you can't criticize it", says Spielberg. And he probably means the U.S. as well as Israël. Munich isn't only about the Israel/Palestinian conflict. The movie's credits say it out loud: Munich is only a city among many others where horrible things have taken place. And the picture is also reminiscent of the hunt for Al-Qaeda and the war in Irak as responses to 9/11. War of the Worlds showed that not even the greatest power on Earth was invulnerable to an attack. And Munich is a metaphorical sequel to that. As some critics have pointed out, the movie is more intellectual than emotional. Which is logical when you see how the team is torn by doubt. How can't you see in Mathieu Kassovitz's character (a toymaker turned bombmaker) a reflection of Spielberg's inner-self: the man-child known for his popcorn movies who turns to dark and serious material. Richard Shickel of Time Magazine defined Spielberg as the person who knows best how to stay in touch with his inner child. But he adds that he's also directed many a picture very far from any childish touch. "Maybe the inner child dies just when you need him most", answers Spielberg.
THIS IS THE END
That answer sounds like someone who might have given up. For the past ten years, people have been griping about his movies' endings. The last few minutes of Schindler ("Just two more…"). Saving Private Ryan's epilogue ("Have I been a good man?"). And especially the last 20 minutes of A.I. and Minority Report (Anderton's dream of being freed by his wife) which are both very dark conclusions disguised as happy ends. And let's not forget the surprising reappearance of Ray's son in War of the Worlds. All these endings show us one thing: Spielberg still has hope. But Munich comes along and destroys all that. After a final half hour which shows how Avner has a hard time coming to terms with his new status as a hero and what he's done, the final scene shows how "vengeance doesn't fucking work" (as Daniel Craig puts it). One last scene. One last dialogue. One last shot. And all is said and done. The movie ends in the 1970s but the future is already in place. Has Steven Spielberg lost all hope? "I think no movie, no book, no work of art can help unlock the stalemate the Middle East is in", he says, lucid about the true impact of his work. But Munich is nonetheless an invitation to dialogue. "I still believe we'll see the end of this conflict in our lifetime".