Heaven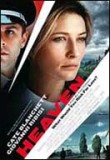 Heaven
Heaven
, 2002
De
Tom Tykwer
Scénario :
Krzysztof Kieslowski
,
Krzysztof Piesiewicz
Avec :
Cate Blanchett
,
Remo Girone
,
Giovanni Ribisi
,
Stefania Rocca
,
Alessandro Sperduti
Durée : 1h36
Sortie : 01/01/2002
Note FilmDeCulte :
A woman whose husband overdosed wants revenge and in the process kills four innocent people. She let herself under arrest and is ready to pay for the innocent lives she took when a young policeman helps her to escape
"In real life you cannot climb that high. What is the highest one can climb to?"
So begins and ends the new film of Tom Tykwer. If you do not like his universe, do not go and see this film, because, even though he did not write it this time, we can find nevertheless his obsession for complicated love stories. Heaven is a hybrid movie, thriller and love story, two movies in one. The first part takes place in Turin, the city of the Devil for Italian people, mainly in the police station, the second in Toscana – God's country. The character are then first in hell where the drama happens, where the cross-examination gives Philippa a hard time, then they escape to purgatory, under the sun helping them to meditate about guilt and love before reaching heaven.
This movie is a bit slow; maybe because Tom Tykwer let aside this clip-way of directing he was using for his two previous movies (of which Lola rennt). This said, this slowness gives us time to contemplate the superb photography of his accomplice Frank Griebe and his incomparable way of directing his actors.
Heaven is sometimes not easily credible, for example the change in attitude of Philippa. She repeats several times that she wants to pay for the innocent lives she took, but finally takes off with Philippo. Unless she decides to do so to be sure to make justice herself, because of the high corruption in the Italian police force? The dialogues are sometimes very flat as well. The morning following the escape we can hear Philippa say "Have you been sleeping next to me?" whereas she has just waken up and she can see Philippo lying next to her. Unless, one more time, that Tom Tykwer wanted to emphasise the innocence and distance of this character to what is happening to her. She seems not to belong to this world. In addition, several times during the movie there are aerial views, as if somebody was watching was is happening below. This may seem far-fetched but when you know who wrote the screenplay, that is Krzysztof Kieslowski and Krzysztof Piesiewicz. They wrote a trilogy and Heaven is the first one, to be followed by Purgatory and Hell. Everything is then in its right place. Indeed, with K. Kieslowski each and every detail means something, and nothing is left to chance.
Tom Tykwer' fifth movie is a new step for him. Indeed for the fist time he was directing an international casting in a foreign language, Italian and English, (Tom Tykwer is German). Cate Blanchett is the light of this movie. Her free-of-make-up face and her big blue eyes give her purity, this purity we can also hear in the beautiful music of Arvo Pärt, in every note of the piano, every violin chord and see in the white of the wedding dress in the second part of the movie. Philippa is pure, but not enough yet. In the first part of the movie she is in hell and if we pay attention to detail we can see it in her haircut. She has blond hair but dark roots whereas in the second part she looks the purer you can get, a real angel. The same goes for Giovanni Risibi, from his first appearance on screen you can see that he does not belong there either. It is then natural for them to find each other. In the second part of the movie all traces of their past life is gone, they are one, which is highlighted on the screen by how similar they look, two bodies but one soul. Even their name is almost similar: Philippa, Philippo. We could even ask ourselves who is saving the other one. If it is not fate, favourite theme of late K. Kieslowski, that brings her in his life and not the contrary. Fate that played a nasty trick to a 50-year-old cleaning lady, a father and his two daughters.
Heaven is a film with good and less good sides, which will unanimously be received. One cannot help thinking what K. Kieslowski would have done with such a screenplay, even though it has never been into question that he would direct any of the tree movies. Fate did not give him a chance to change his mind and sent him far too early to… Heaven.