Unleashed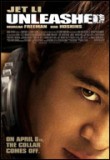 Unleashed
France, 2003
De
Louis Leterrier
Scénario :
Luc Besson
,
Robert Mark Kamen
Avec :
Kerry Condon
,
Morgan Freeman
,
Bob Hoskins
,
Jet Li
Durée : 1h43
Sortie : 01/01/2003
Note FilmDeCulte :
Small time mafiosi Bart has raised Danny like a combat dog, raised him to kill. When Danny finds himself on his own after his 'master' got slaughtered, he meets Sam, a piano tuner who will take him in his family. Is it still possible for Danny to begin a new life and begin a new education?
THE PIANO
Music can soften moods, but does it have enough power to permanently transform a human being? This is the key plot of Unleashed, the new movie by Europa Corp., mainly known for its films with uncomplicated scripts and an easy humour lacking in finesse. However, for the past two years, a slight improvement can be noticed in the company's projects and this new film from Louis Leterrier follows the same path. Has Luc Besson given more liberties to his new authors, whom he systematically helps to come with the stories? The answer is most likely yes, as it is increasingly possible to feel their own will, past the usual lot of fights, to draw their stories beyond entertainment, or not. If expectedly, all the usual ingredients linked to the success of Europa products are here to be found, namely stylised fights, however, an emotional touch in this particular kind of movies is new and almost works. Naturally first tries are imperfect but it will hopefully become a norm, as it possesses this little something sincere enough to back off the usual and systematic bad critics about the Luc Besson labelled products. Maybe has this one even found back this script flair that made The Professional so good and seemed to had been lost since then? It's too early to say, but things are looking better.
KEN THE SURVIVOR
If Unleashed is maybe the new breath for productions that were always revolving around the same themes, one should not forget how well the action scenes are executed. Whether they take here the shape of settlings of accounts for a modest gangster or take place during clandestine scenes, for example the fights with the ferocious dogs in hangars or cellars, the maestro Leterrier together with Yuen Wo Ping's scores (The Matrix, Kill Bill), not to forget his instrument Jet Li, are taking great pleasure in giving the audience a blow concert. Moreover, the linearity of the various fights confirms that after The Transporter, Leterrier knows how to give shape and soul to such frontal shocks that these duels represent. Helped with the images of Pierre Morel, who since then directed Banlieue 13, and of his more or less loyal cutter Nicolas Trembasiewicz, each of the aggressive experiences, yet not as numerous as one could think, manages to be different and thus give the spectator the real show he is due to expect from such a production. In addition, these scenes does not appear uninvited during the story, to fill in a lack in the rhythm, but serve the linearity of the case, in order not to stray too much from the subject which starting point is rather out of control.
REPLICANT
With exemplar fighting scenes, the weak point of the story is the emotional scenes. Indeed, as the obvious will to give the main fighter unexpected situations to go through adds a new quality to the movie, the far too heavy starting point draws the movie in the opposite direction. Because the awkward storytelling can't find his marks, it turns to pathos and consequently to a cliché situation. If the duality of the two substitution fathers works well, similar to these comic angels and devils appearing on the shoulders of characters to tempt them, the initiation and learning processes appear more like childish, not to say easy and too fast. Massive Attack's music doesn't reproduce the wonderful connexion of Craig Armstrong or Archive in previous movies, but simply underlines the actions without giving the images a real identity. The almost ham acting of Morgan Freeman as a black angel (with this eternal smile on his face and his line of blasé man), points starkly out a lack of direction for this role which would have deserved to be approached in a more subtle way. Whereas opposite him white devil Bob Hoskins expresses a very enjoyable intrinsic rage. But each of these characters would not be what it is without the almost magical interpretation of Jet Li, and a new range of emotions he had never shown so far. A naive smile, almost protruding eyes and a few tears binding this growing character and Danny becomes very touching. Only two weeks after the performance of Jean-Claude Vandamme in Wake of Death, is the consecration of physical actors under way?
En savoir plus
Quelques liens :