Sonny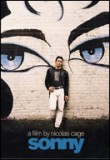 Sonny
États-Unis, 2002
De
Nicolas Cage
Scénario :
John Carlen
Avec :
Brenda Blethyn
,
Harry Dean Stanton
,
James Franco
,
Mena Suvari
Durée : 1h50
Sortie : 01/01/2002
Note FilmDeCulte :
Sonny has just finished serving in the military. Back to his Mother's in New Orleans where he used to be a gigolo, he is determined to get rid of his former career and start leading a normal life. But he meets Carol, a prostitute who works for his mother, and this brings forth a series of disappointments which will slowly overcome his resolutions.
If Nicolas Cage's acting talents are not to be called into question, there still was an question mark on how he would do on his first directing exercise. Out of a distressing subject (the life of a gigolo torn between his desire of normality and his living condition) he manages to create a personal and surprising movie. First of all through its aesthetic qualities : the sets, costumes and even some of the dialogue contain typical elements of Cage's persona. A funny mixture of beauty and bad taste, of stylishness and camp, and an assumed self-derision. But, on the other hand, his directorial choices seem a little surprising. Restricting his direction to the maximum (he uses a lot of fixed shots) Cage brings his film into a strange territory. It is even more surprising considering the subject (marginality and prostitution) that is generally dealt with filth and darkness. Here, the photography is bright and clean as if there was a desire to stain it only with the action. However some disruption can be noticed when the neat and intimist framing becomes intensely confused as if Sonny was rocked by reality.
Arising from these choices, the world of prostitution is therefore shown without any excess, which is even more distressing. From the gloomy nature of the customers to the disgusting sensation felt by the hooker, Cage gives the impression of looking for a new kind of realism while at the same time using humour and chaos. Obviously this bias leads sometimes to awkward artistic choices and an undecided tone.
But the most striking are the gloomy portraits depicted in this movie. From the idealistic figure represented by Sonny to the resigned character of Henry (Harry Dean Stanton), the actor-director shows a large range of misery without any judgement or voyeurism. One can only salute the performances of Mena Suvari playing a prostitute prepared to give up everything in order to live a normal live, and of Brenda Blenthyn, the string-pulling mother (who recalls the character played by Diane Ladd in Wild at Heart). But the real revelation of this movie is James Franco (previously seen in Spider-Man) as Sonny, an unforgettable idle gigolo, who demonstrates in every single scene what a great actor he is becoming.
Directing his very first movie, Nicolas Cage creates an original and somber movie that sometimes touches the deeply intimate. Underlined by the captivating original soundtrack composed by Clint Mansell and the spectacular work of the actors, Cage offers a true and moving non-conformist vision.