Safety of Objects (The)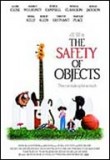 Safety of Objects (The)
États-Unis, 2001
De
Rose Troche
Scénario :
Rose Troche
Avec :
Julie Campbell
,
Patricia Clarkson
,
Glenn Close
,
Joshua Jackson
,
Dermot Mulroney
Durée : 2h00
Sortie : 01/01/2001
Note FilmDeCulte :
Four typical American suburban families. Each one is about to launch into his own questioning on his way of life.
The Safety of Objects is the new child of a recently-appeared and wide-spreading genre: the ensemble piece on the suburbian malaise. It will be with no doubt compared with its famous, yet flawed, cousins Magnolia and American Beauty.
Less pretentious than P.T. Anderson's movie, but less visual than Mendes', Rose Troche's picture distinguishes itself thanks to its motivated cast led by Glenn Close, who hasn't been so good in a decade. Dermot Mulroney is excellent as the family man stuck in a crisis; Patricia Clarkson plays with quite some talent a lonely woman; and the "young ones" Timothy Oliphant, Jessica Campbell and Joshua Jackson get away pretty well.
Rose Troche, who directed the enjoyable Go Fish and was but a yes-woman on the terrible Bedrooms and Hallways, seems to have moved up to the next level with this mini-Magnolia. But the ambition she gained seems to have resulted in some ways in a loss of spontaneity. The script never really goes above and beyond its potential. Instead of making the world she created blow up, she glides around it in a much too quiet fashion. The film lacks a little crazy creative touch that would make it take off. It's all the more disappointing that some scenes clearly have their own off-beat originality, such as the ones where Mulroney's son talks to his doll, or the opening credits. But the rest isn't quite on par.
However Rose Troche, after her talented debut and the Bedrooms and Hallways misstep, seems to be back. Without being in any way a masterpiece, The Safety of Objects brings with it new promises and hopes.