Persona Non Grata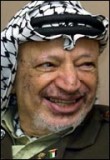 Persona Non Grata
, 2003
De
Oliver Stone
Avec :
Yasser Arafat
,
Oliver Stone
Durée : 1h06
Sortie : 01/01/2003
Note FilmDeCulte :
March 2002. The crisis in the Middle-East between Israel and Palestine is getting worse. Oliver Stone and a small crew go out to meet the different people involved.
CRISIS
Three years after having blown us away with Any Given Sunday, Oliver Stone is back with his second documentary in less than a year. First there was the excellent Comandante about Fidel Castro. And now comes Persona Non Grata, that deals this time with Yasser Arafat. Once again, Stone stands out as a precise and serious observer of world crisis. Surprisingly, he isn't popping up in the States this time (especially in these times of lying and deception among the land's highest offices), but over in the West bank in an attempt to unravel the knots of an explosive situation. The documentary biopic we were expecting is in fact a look at someone who's not there, as the title suggests. Of Arafat, all we'll see is a short meeting with artists from Europe and America. It's up to the others to draw out the crisis and Arafat's pivotal role within it. First there are the former Israeli Prime Ministers. Three men, three visions of the world: the wise Shimon Peres, the sarcastic Netanyahu and the ill-at-ease Ehud Barak. Then we have the Hamas, infuriated, and the Martyrs of Al-Aqsa brigade, which Stone interviews with refreshing candour ("You don't just around in your masks all day, do you ?", Stone asks).
OLIVER THE GREAT
And then in the middle of all of this is Stone himself, always as curious, always as intelligent. The rumblings of the White House and Pentagon have given way to the contradictions of an eons-old crisis. By travelling to the Middle East, Stone keeps digging deeper in what's always been of interest to him: the clash between History and stories, between the people and the powerful. His editing sometimes is a little confusing and gives way to useless tricks, but the film stays on track. After Nixon, after Fidel Castro, Stone focuses on a little man whose character leaves no one indifferent. And after Arafat, there'll be Alexander and his conquering of the Ancient World. Different place, different time, but the goal is still the same: to look at those in power at man's height.