Mystic River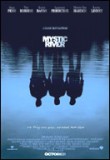 Mystic River
États-Unis, 2003
De
Clint Eastwood
Avec :
Kevin Bacon
,
Laurence Fishburne
,
Marcia Gay Harden
,
Laura Linney
,
Sean Penn
,
Tim Robbins
Durée : 2h17
Note FilmDeCulte :
Jimmy, Sean and Dave are three boyhood friends who now only seldom run into each other. When they were young, Dave was kidnapped in front of his playmates by two perverts who raped him for four days before he managed to escape. Thirty years later, Jimmy's daughter is killed and the three men meet again…
BACK IN MOTION
Straight to the point : Mystic River is Clint Eastwood's best movie since The Bridges of Madison County. It's amazing to compare it with last year's Blood Work and see how much as changed. The cinematography and music are excellent and the script is a return to real, dense, meaty stories as opposed to the rather weak and thin Space Cowboys and Blood Work. Brian Helgeland's script, adapted from a novel by Dennis Lehane, is at first a nostalgic Stephen King-like piece, then a suspenseful whodunit and finally a ambiguous human drama. Mystic River sometimes reminds of recent American multi-generational thrillers/dramas such as James Gray's The Yards and The Pledge by Sean Penn, who happens to be in Eastwood's film. In all of these movies we find the same dark mood, a discrete social commentary, characters all depicted in shades of gray and the same sense of "everyday tragedy" and pessimism from someone who once used to believe in the myths.
ALMOST THERE
The three childhood friends saw their paths slowly distance themselves from each other. Jimmy's done time and his now running a small store ; Dave is still traumatised by his kidnapping and rape ; and Sean is now a cop. Alongside Sean Penn are Tim Robbins (excellent behind his grimacing) and Kevin Bacon (who hasn't been so good in a very long time). In supporting roles are Laurence Fishburne has Bacon's fellow police officer and, as the wives, Marcia Gay Harden and Laura Linney. The directing is splendid and shows to the ones who still somehow doubted it that Eastwood is one of the great American filmmakers and his work with actors produces miracles. He also did the score, which is magnificent, and gives Mystic River a grandiose yet intimate touch.
However, behind all these qualities, Mystic River seems to be kind of weighed down by its own merits. The movie is solidly written, but maybe is it too solidly written and finally lacks this little bit of surprise and emotion that makes Unforgiven and The Bridges of Madison County memorable films. In Cannes, the movie got heavy applause, but a couple of "booos" too. So Mystic River is sure to cause a little debate when it comes out this Fall.
En savoir plus
Quelques liens :