Gerry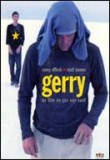 Gerry
Gerry
États-Unis, 2002
De
Gus Van Sant
Scénario :
Casey Affleck
,
Matt Damon
,
Gus Van Sant
Avec :
Casey Affleck
,
Matt Damon
Durée : 1h43
Sortie : 01/01/2002
Note FilmDeCulte :
Two men named Gerry are walking through the desert. They take a short cut and get lost. Without any food or water, they fight for survival
A car is slowly driving through the desert, in the background, nothing else but the melancholic piano of Arvo Pärt, and the omnipresent sun that seems to give everything a halo. This is how starts Gerry, Gus Van Sant's new masterpiece, an hour and a half of an unique contemplative journey. The idea for the picture originated during a stay in Argentina with the two actors, Matt Damon and Casey Affleck. They both are credited with co-writing the script, and Gerry goes here a big, overblown narrative, nor heavy psychology, little or no dialogue… The film is nothing but visuals, sensations, unvoiced remarks and meaningful silences.
These two young men wandering in the desert are doing nothing else but retelling the story of mankind. Gus Van Sant lets them linger during his marvelous plan-sequences, up to a state of quasi-hypnosis, and he stretches time to enhance the doubts of his two characters, lost in this vast and wonderful landscape.
The friendship at the start of the movie gives gradually way to uneasiness. Nothing to rely on anymore: a mountain made of stone turns into a sand dune. The sky and the earth just mix boundlessly. Taken in this physical and mental maze, the two friends are becoming small dots in a set suddenly too big. Words are more and more scarce. Only their breathings put rhythm into their increasingly mechanical walk. The movie verges then on sublime and is just a succession of plan-sequence that are just plain beautiful, paintings of a sensual trip. The paintings of David Hockney come to mind, as well as the opening and ending of 2001, a Space Odyssey. The divine music of the Estonian Arvo Pärt and the sumptuous images of Harris Savides blend into one, up to the point where superfluous explanations are no longer needed.
Gus Van Sant gives us no key. The story is on purpose minimalist. Each and every spectator can then create his/her own story, take Gerry as a given or try and analyse it.