Die another day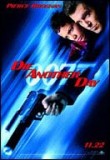 Die another day
Die another day
États-Unis, 2002
De
Lee Tamahori
Scénario :
Neal Purvis
,
Robert Wade
Avec :
Halle Berry
,
Pierce Brosnan
,
John Cleese
,
Rosamund Pike
,
Toby Stephens
,
Rick Yune
Durée : 2h03
Sortie : 01/01/2002
Note FilmDeCulte :
A secret operation lead by James Bond and two of his men in the restricted area between the two Koreas fails because of a traitor. After a dazzling hovercraft hunt in a minefield, Bond is imprisoned in a high-security prison. At his liberation, fourteen month later he must regain his 00 status, while chasing the traitor and trying to foil Grave's plan.
This is a truly return to a Bond's spirit that was missing for the last episodes. Die Another Day is maybe the best James Bond in years. Even if the plot and the SFX are sometimes the weakest point of the movie. Everything had seemed to be set in great shape for this anniversary.
After three movies just above the average, or even more catastrophic for the last one The World Is Not Enough, Pierce Brosnan seems to have reach the maturity required for the part. With an absolute trust, he appropriates entirely the character. He sets himself as living James Bond, handling every details, every line, every attitude of that so particular hero. When you see him dressed in pyjamas entering a Chinese hotel, he is James Bond. As a real professional James Bond, he was fully involved into the creative process of the movie, bringing his knowledge to the other actors and the crew. Therefore, the characters written by the screenwriters fit perfectly into the Bond's tradition.
Halle Berry is achieving a real come-back of the true James Bond Girl. Jinx is a perfect combination between Wai Lin (Michelle Yeoh in Tomorrow Never Dies) and Abondance Delaqueue in The Diamonds Are Forever. She is a very strong and sexual woman who waddles with elegance. She wears with equal style the cocktail dress and the combat uniform; she appears to be the equivalent of James Bond and very girlie-girl at the same time. And as we need a pair of girls in every James Bond movie, we have Miranda Frost, the opposite in every way of Halle Berry's character. Typically British, she is interpreted by the very young Rosamund Pike. Very sure of herself, she is fully involved in what she's doing and by this way and the strength of her will, she can coldly resist to James' approach.
This is also the return of the delightful villain and his henchman. Selfish and arrogant, Gustave Graves is the youngest villain of the saga and probably one of its best. Toby Stephens interprets this ecologist and megalomaniac industrial guy. He manages to bring a theatrical touch to his character. And Rike Yun plays in a realistic way this bad guy who became a mutant after a fight with James Bond. They both play their character in a very visual context, just like Shark, Blofeld or Dr no.
If Die Another Day is fulfilled with a Bond-like spirit, it's not only with the characters, but also with the multiple references to other Bond movies. Those passing references are there to celebrate the anniversary, but are also pleasant parts that contribute to make that movie even more enjoyable. From the legendary appearance of Halle Berry as reference to Ursula Andress, to lines like "Diamonds are for…everyone" and the union-jack parachutes, this twentieth piece will delight the greatest fans of James Bond.
But the movie can't be sum up by those oldies. The director Lee Tamahori managed to bring many new elements. From details like the surf opening sequence to historical events like the reunification of the two Koreas, the world of Bond is changing, but he remains the same.
Of course, the audience wants a younger James Bond, just like spin-off like Mission : Impossible II or xXx. In regard of this, the script and few ideas seem to be written in that perspective of concurrence. Some scenes may look too ridiculous or too exaggerated even in the Bond Spirit. For instance, the opening credits are way too different of what we're used to watch. After all, the Bond movies are more than simple action movies, they have a style with no equivalent at all. Nothing is too much for James Bond, and he has the way to handle this with class and elegance.