Ararat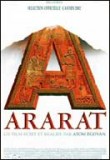 Ararat
ararat
Canada, 2002
De
Atom Egoyan
Scénario :
Atom Egoyan
Avec :
David Alpay
,
Charles Aznavour
,
Eric Bogosian
,
Bruce Greenwood
,
Arsinée Khanjian
,
Christopher Plummer
Durée : 2h06
Sortie : 01/01/2002
Note FilmDeCulte :
Fictional director Edward Saroyan is starting a movie about the Armenian Genocide. He gives a job as a consultant to Ani, an Armenian professor, and she brings along her son Raffi, who tells us the story.
"Who remembers the Armenian Genocide ?"
According to some, those words were uttered by Adolph Hitler in order to show the possibility of mass-murdering Jews. Atom Egoyan didn't direct a film about the killings but about our need, and even our duty, to not forget them. Such an error would only lead to more tragedies but also to the loss of entire cultures and civilisations.
At the heart of the film, there's a movie being shot called Ararat which is in fact the picture that Egoyan doesn't dare to make. It's not possible for him to talk about the Genocide in a fictionalised manner, he is in no way trying to do Schindler's List; That task is given to Egoyan's on-screen double, Edward Saroyan (Charles Aznavour). Through this character, he shows how History gets modified by fictionalisation.
The movie that is being filmed is in fact the adaptation of the diary of Clarence Ussher, a doctor who witnessed the Genocide. There's a scene in Saroyan's script taken from Ussher's diary where he recounts the story of a German woman who saw young Armenian girls being tortured; you then see how a real-life event can be changed, manipulated and re-interpreted through time. Egoyan insists on the need to communicate, from one generation to the next, so that we never forget.
If Saroyan is there to represent Egoyan, the other characters also have their share of symbolism: Raffi is an 18 year-old young man who's getting on a quest to find his origins. He gets his motivation from Celia, his half-sister. She's awkwardly treated by Egoyan and her story seems to end short. In one scene, Raffi manages to talk about the Genocide to an old American customs officer who symbolises the everyday man, the one who probably has never even heard of the Genocide. There's also a half-Turkish character whom Raffi talks to. The man concludes that "It's history now". Egoyan seems almost sympathetic for the character, and he prefers to put the blame on the education he received in Turkey.
The film's structure is at times confusing. The symbolism and obvious "importance" of the subject matter tend to make Ararat a heavy-handed pensum, but it is in fact nothing more but an intelligent piece of work that chooses analysis and reflection over easy emotions.