Harry Potter and the Prisonner of Azkaban (english version)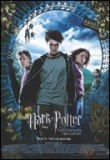 Harry Potter and the Prisonner of Azkaban (english version)
Harry Potter and the Prisonner of Azkaban
États-Unis, 2004
De
Alfonso Cuarón
Scénario :
Steve Kloves
Avec :
Rupert Grint
,
Gary Oldman
,
Daniel Radcliffe
,
Alan Rickman
,
David Thewlis
,
Emma Watson
Durée : 2h16
Sortie : 02/06/2004
Note FilmDeCulte :
Harry Potter and his friends are back for a third year at Hogwarts. But a mysterious criminal named Sirius Black is on the loose, and he seems to be somehow linked to Harry…
A NEW HOPE
The previous Harry Potter movies had both fans and non-fans waiting for more and crying out to have a real auteur behind the camera. Chris Colombus' two first outings were good tries but didn't knock it out of the park: Sorcerer's Stone and Chamber of Secrets lacked personality both in their directing and screenplay. By trying to be too faithful to Rowling's novels, the movies ended up being awkward strings of scenes, with little or no smoothness linking them together. It was too bad no to have Spielberg, who was once interested, or Terry Gilliam (J.K. Rowling's choice) at the helm. So it came as a surprise to see Warner Bros. chose Alfonso Cuaron to direct the third instalment. And it's no need to say that it's the most inspired idea the producers have had yet: the young Mexican director has managed to make the novel is own and give us an extraordinarily compelling blend of adventure, horror and teen drama.
SMELLS LIKE TEEN SPIRIT
Whoever has seen Cuaron's previous movie Y tu mama tambien won't be surprised to see him delve so deeply into the adolescent minds of his heroes. Slowly leaving the world of childhood, this Harry Potter resembles more and more a teenage character study. And Harry, as an orphan, is the perfect representation of the torments and contained anger of the three adolescents. After Dumbledore, he latches on to Professor Lupin as a father-figure. Every teenager's problems are very well depicted and even the rivalry within the school feels more natural and less like a stupid good guy/bad guy antagonism. Visually, Cuaron treats those scenes in a no-frill manner, naturally, and the choice of having the characters wear everyday clothes instead of their wizard robes is brilliant. By bringing this realism to the story, Cuaron manages to make the fantastical elements even more wonderful.
SOMETHING WICKED THIS WAY COMES
The first episode put the fantasy elements in place (goblins, dragons, trolls…), the second one was more like a monster movie with its giant spiders and snake, and the third instalment feels more like a horror film. The photography is beautifully contrasted, with dark blacks and pure whites. Everything feels more somber: Quidditch is played in the rain, and even the lighter moments happen under an overcast sky. Fear is everywhere in Azkaban: fear of growing old, fear of the future, fear of one's own destiny. Cuaron, by not hesitating to truncate the book, and delving so profoundly into his main character's psyche, has rejuvenated the saga. Let's hope that the fourth episode, to be directed by Mike Newell (Donnie Brasco, Four Weddings and a Funeral) will keep the series at this same level of excellence.